The History of Pigeon Forge
Pigeon Forge, Tennessee, is a small city that is in the Smoky Mountains of eastern Tennessee. Pigeon Forge may be better known today as a tourist destination due to the proximity of amusement parks and other fun family activities, but this town wasn't always the bustling attraction that it is now. 
Pigeon Forge has a rich history that dates to the Revolutionary War.  The first settlers to Pigeon Forge were the Cherokee and other Native American tribes. However, in the late 1700s, a treaty was signed and this allowed settlers to move into the area. When Pigeon Forge originally was settled, it was a part of North Carolina. The name Pigeon Forge is a combination of two things: The Little Pigeon River that goes through the town, and the iron forge that was established in 1820 by Isaac Love.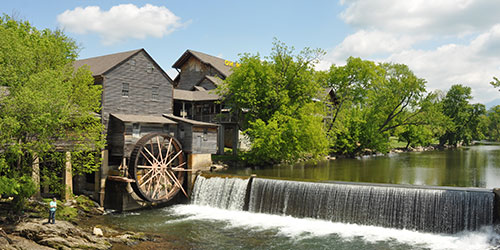 While the city of Pigeon Forge was around during the Civil War, there were no major battles in Pigeon Forge. Instead, there were just small skirmishes between the two sides. After the Civil War and through the rest of the 19th-century, the population of Pigeon Forge remained relatively small. However, as the surrounding area began to gain more attractions, the population also started to grow. Technology also arrived in Pigeon Forge in 1898, when the first telephone came to town.
In 1961 the city of Pigeon Forge voted to become incorporated. In the 1980s, the city established a new Department of Tourism. This took a turn for the best when Dolly Parton applied her name to a theme park Dollywood. Fast Food, which is an American staple, arrived in Pigeon Forge when Burger King came in the early 1970s.
Today Pigeon Forge is a bustling tourist destination, and there are a variety of family activities. You are close to theme parks such as Dollywood. However, you also have access to nature and the Great Smokey Mountains.